Hey, Guys, It's
Avi Saha
fromTechin.
And in this article, we take a detailed look at the cameras on the new Redmi Note 7 Pro. I know you guys have been waiting for this one, but there are some interesting things that I noticed while extensively testing out the cameras on this phone, so I didn't want to rush this video out. The 48-megapixel camera seems to be the new trend in the smartphone world,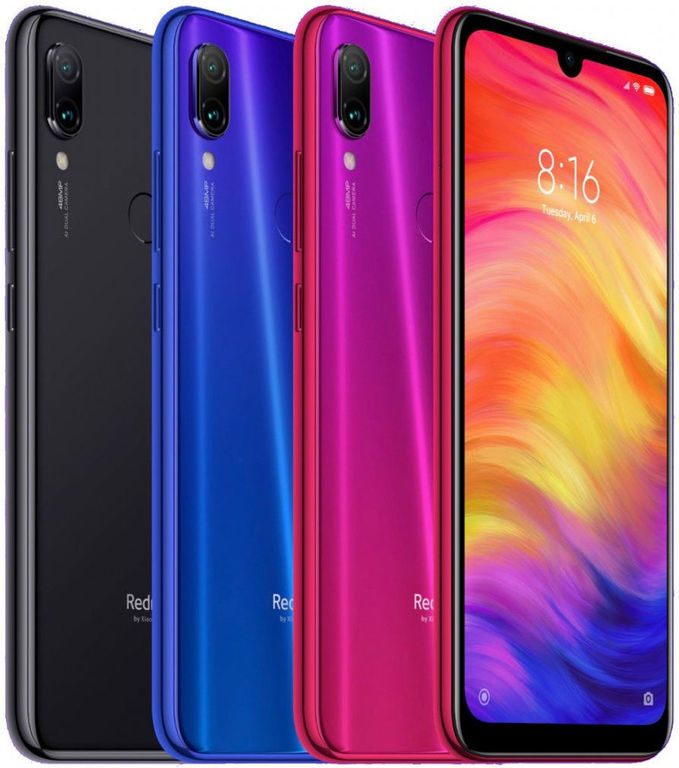 Redmi Note 7 Pro comes with the
Sony IMX 586 sensor.
Which is the best 48-megapixel sensor fora smartphone, available right now? Now having a
48-megapixel camera
on a sub.15,000 phone is impressive, because the other phone with this same camera sensor is the Honor View 20, and that one starts at Rs.37,999. So how Xiaomi managed to pack that sensor and all the other tech in this sub 15,000Rs phone, is something everyone is wondering about. We have a lot of things to cover, so this might be a slightly longer video. Keeping that in mind, let us quickly run down specs of
this phone
.
But before that, if you are new to this channel, please make sure to hit the subscribe button, and the bell icon next to it. At the back Note, 7 Pro comes with a dual-camera setup. The primary camera has a half-inch, 48 megapixels only IMX 586 sensor, with F/1.8 aperture, and each individual pixel has a size of 0.8micron. This does not sound like much, but the SonyIMX 586 sensor uses Pixel Binning, to combine information from 4 pixels into 1 pixel, thus increasing the size of each individual pixel to 1.6micron. The secondary camera gets a 5-megapixel depth sensor, with F/2.4 aperture. None of these cameras have optical image stabilization. Note 7 Pro is the 1st Redmi phone to support4k 30fps video recording out of the box.
These videos are not stabilized, but at least now you have an option to shoot in 4K resolution. You can also take 1080p 60fps videos, and again these are also not stabilized, but 1080p 30fps videos are electronically stabilized. I observed some major issues while recording videos, but we will talk about them later on when we look at the video samples. So make sure you watch till the end. Anyone might see or hear about the 48-megapixel camera on a smartphone, and get very excited. But having so many pixels on a half-inch sensor means each individual pixel will receive less light. To make up for this, the Sony IMX586 sensor combines information from 4 pixels into 1 pixel and gives us a higher quality 12-megapixel image. Most of the modes like HDR, portrait mode, night mode, and so on can only capture 12-megapixel images.
You can take higher resolution images by selecting the 48-megapixel mode, or by turning on that toggle in the Pro model. At the front, there is a 13-megapixel selfie camera under this water drop style notch. And it has support for HDR and AI scene detection. The camera interface is pretty similar to most other
Xiaomi phones, where you swipe in either direction to switch modes. You can tap on these 3 lines on the top right, to go to settings, or if you want to switch to the 48-megapixel mode. There is a pro mode, which lets you adjust the white balance, focus, shutter speed, and ISO according to your liking. The range of the shutter speed is from 1/1000sall the way to 32seconds. And range for ISO is from 100 to 3200.
You can take 48-megapixel images from this mode as well, but there is no option to shoot RAW images, even in pro mode. Now there is a bit of shutter lag or image-processing time when you click images in 48 megapixel or portrait mode, or if you have the AI scene detection turned on. This delay can be anywhere from a few milliseconds to up to 5/8 seconds. This might not sound like a big deal if you only occasionally take images. But for someone like me, whole likes to take many images back to back, this delay becomes frustrating after a while.
I hope Xiaomi is working on a software update to fix this issue. Alright, with all that out of the way, let's now check out the image and video samples from this phone. Like always, I will start with well-lit daylight images. It captures plenty of details in each shot. All these images are sharp and have a good amount of contrast in them. Colors also accurate for the most part, but if you are not happy with the colors, contrast, or saturation of these images, you can go into settings and fine-tune each of these settings to get the look that you desire.
These are normal 12-megapixel images, and it is the default that this camera shoots in. You can switch to the 48-megapixel mode, and here are a few of the 48-megapixel images that I took. Now here are some images captures in 12 megapixels and compared side by side. Can you tell which one has more detail? Let me zoom in on the images, to make it a bit easier for you. Now can you tell? Well, the image on the right is shot in 48megapixels, and the one on the left is shot in 12 megapixels. Yes, 48-megapixel images are ever so slightly more detailed, but I think the difference is not so vast that I would ask you guys to always shoot in that mode.
You can zoom in way more on 48-megapixel images, so it might be helpful while shooting landscapes. But other than that, I would ask you guys to stick with the default 12-megapixel mode. 48-megapixel images also take up huge space, so if you shoot a lot of images in this mode, your phone's internal storage will fillup in no time. By default, the dynamic range of this camera is pretty good, but with the HDR mode turned on, it gets even better. You can see the difference for yourself. HDR mode brings up a lot more details from the shadows while preserving the highlights. Since the HDR mode really helps improve the images, I went ahead and left in on auto for almost all the images the I took. Before moving to the close-up and macro shots, here is a quick focusing speed test of the primary camera.
Since it doesn't use dual pixel autofocusing, it is not as quick as the Note 6 Pro when it comes to switching focus, from far to near objects. But it still gets the job done, and I think most people won't even notice the difference in the autofocusing speed. Once it sets the focus on a nearby subject, it can take amazing close-up and macro shots. The subject is in perfect sharp focus, and the background and foreground, in this case, are very nicely blurred out, thanks to the wideF/1.8 aperture. Since
The background is so nicely blurred out, you might assume that these portrait shots, but these are normal close up shots, and the background blur is all-optical. Speaking of the portrait mode, here are a few portrait shots. Xiaomi has got extremely accurate with the edge detection and subject isolation in these portrait shots. The subject is differentiated very well, and the background is very evenly blurred out. You can change the amount of blur to the background, or even add various light trail or studio lighting effects to your portrait shots even after you have clicked an image. To get to these effects, head over to the gallery, open any portrait mode image that you shot, and tap on this shutter like a symbol. And go through all the lighting effects.
Just remember it only works for portrait mode images shot with the rear camera and does not work for portrait selfies. I am not into it, but you can even take portrait mode images with the beauty mode on. I don't like to use it because these images are very soft. But if you like taking images with beauty mode, you have that option, both on the rear and front-facing camera. You can take portrait images of non-human subjects as well, and it is just as accurate at detecting the edges and separating the subject from the background.
It does really well, even if just your point towards an object with multiple edges. Coming to lower and artificial lighting conditions, you still get good looking images. You can again choose to take 48-megapixel 12-megapixel images, and here are examples of both. As we zoom in, 48-megapixel images are just a bit more detailed, but they end up capturing a lot of noise, compared to 12-megapixel images. This is due to the fact that 48-megapixel mode does not use pixel binning, so each individual pixel size is smaller, and it is able to gather a lot less light. So I would again recommend you to stick to12 megapixel images even in lower light.
There is also night mode to help you take better images in lower light, and as you can see in these images, it does make a considerable difference. Night mode also captures a lot of noise, but at least there is a lot of light in those images and they look better than the ones clicked without this mode. Unlike other phones, night mode images on note 7 Pro don't take too long to capture, so you don't have to be still for very long. But they do take a few seconds to process, so if you want to click many images back to back, stick to the auto mode.
Night mode images also handle the exposure from lights pretty well, so for most of the shots I take in low light, I just use the night mode. You can use the Pro mode and get better images that way, but I understand that everyone doesn't want to mess with the settings every time they want to take decent images, so for those night mode would work better. That brings us to the front-facing camera. Xiaomi went from using a 20-megapixel primary selfie camera on the Note 6 Pro to 13-megapixel selfie camera on this Note 7 Pro. And I feel that the dip in megapixels can be seen in the images.
Don't get me wrong, it can take good images, but the images are not as sharp as from some other competing smartphones. You can take portrait selfies. And even without a secondary depth-sensing camera, edge detection is fairly accurate for these portrait selfies. Here is a video from the front-facing camera the Redmi Note 7 Pro. You can see how it handles the overall colors of the scene, exposure, and stabilization when I'm walking around with it. You can shoot 4k 30fps videos with the Note7 Pro, right out of the box. These videos are supersaturated, and they don't get any kind of stabilization. You can also take 1080p 60fps videos.
These videos are not as saturated as 4k ones are, but they also don't get any kind of stabilization. There is also a lot of focus hunting while shooting at 60fps. 1080p 30fps videos are electronically stabilized, and they do look good, that is when the phone actually captures them properly. I say that coz this is how the 1080p 30fpsvideo came out. Notice how choppy the video is, and how many frames are being dropped. I tested this in various lighting conditions and with 2 different Note 7 Pro phones, but the results have been similar.
Videos are extremely choppy and drop a lot of frames. And this becomes worse as you use the camera for some time and the back starts to heat up. I tried taking videos with 3rd party camera apps like Open Camera and Moment Camera app, and to my surprise, those videos are not choppy at all. But for some reason, videos from those apps are not stabilized, even if you have the image stabilization on. Here is an example of the same 1080p 30fps video shot with the stock camera app and an Open camera app side by side.
The stock camera app drops the frames but keeps the video stable. 3rd party app doesn't drop any frames, but the video is not stable. Frame drops, image processing time, and shutter lag are major issues with the camera app that Xiaomi needs to address as soon as possible, with a software update. For those of you who are heading to the comments section that a fix is out and I should update my phone, well my phone is running on MIUI10.2.7 and at the time of uploading this video, this is the most recent update that Xiaomipushed out.
Alright, so after looking at all the images, what do you guys think about the cameras on the Note 7 Pro? Leaving the videos bugs aside, coz I am confident it will be fixed with software updates, do you guys think that it is the best camera on a budget smartphone? Whatever your thoughts are, do let me know in the comments. With a starting price of Rs.13,999, I personally think you won't find a better set of cameras in the market right now. I will be comparing these cameras with the one on the Honor View 20, to see how different manufacturers process the images captured from the same sensor. It is going to be a fun and exiting video, so make sure you have turned on the notifications for Next article